Grab your friends and get ready for Scrapbooking Fun!!!
Join us on Royal Caribbean's 10/10/10 Mexican Riviera sailing on Mariner of the Seas. This is a fantastic 7-Day itinerary sailing from Los Angeles visiting Cabo San Lucas, Puerto Vallarta and Mazatlan. We will have lots of time to spend together on Scrapbooking along with one on one instruction and advice. For those of you who don't know Terina, you are in for a great cruise!

| | |
| --- | --- |
| | Terina is a well known scrapbook teacher and designer in Southern California, teaching classes for the past 12 years in stores all over Southern California. She has also taught classes on "scrapbook cruises" for the past 8 years! She is a member of several design teams, been published in several industry publications, idea books and has even designed her own paper and embellishment lines. Visit my BlogSpot to find out more! |
How do you crop and cruise? EASY! Terina's workshops and other scrapbooking activities will be held during the sea days and evenings of the cruise (we've secured Scrapbooking space on Mariner of the Seas for your entire cruise which gives everyone plenty of room to spread out and scrap). When the ship is in Cabo San Lucas, Puerto Vallarta and Mazatlan, you can be footloose and fancy free—the best of both worlds!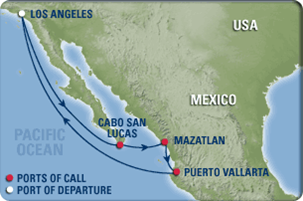 For more on what there is to do while in port, click on each and find out!
Explore Royal Caribbean's Mariner of the Seas with these links!
We'll have lots of instruction and free-crop time... PLUS: parties, games, make-n-takes and more! I encourage you to give myself or Terina a call or email with any questions you may have—we desire this cruise to be a fun experience with lots of new scrapbooking ideas and lessons to take home. You can email me at: creative-cruises@hotmail.com. Talk soon!!


The best part about a cruise is that it's all inclusive and you get to experience a region vs one destination. AND just about everything is included with your cruise rates:
¤ 7 Night Cruise on Royal Caribbean's Mariner of the Seas
¤ ALL gourmet meals, 24 hour room service and more
¤ 5 Star Entertainment (Broadway, Comedy, Dance, etc)
¤ Scrappers Instruction with Terina Matthews!!
¤ 24 Hour Croppin' Room
¤ Page Layout Contests + Make-n-Takes
¤ Games, Prizes, and More!!
¤ Lots and lots and lots and lots and LOTS of FUN!!!
¤ Croppin' the Seas Cruise Rates: